!-BODY BGCOLOR="#000000" TEXT="#FFFFFF" LINK="#675EF0" VLINK="#91FFA7"-->

Isaac Asimov Home Page
Welcome to the Isaac Asimov Home Page. Here you'll find a comprehensive collection of resources pertaining to Isaac Asimov (1920-1992), the quintessential author, who in his lifetime wrote over 500 books that enlightened, entertained, and spanned the realm of human knowledge.
---
The Isaac Asimov FAQ
The FAQ for the Usenet newsgroup alt.books.isaac-asimov provides answers to the frequently asked questions about Isaac Asimov, and is an excellent place to start if you have questions about him. Included is biographical information about both his personal life and his literary life, answers to questions about the Foundation and Robot series, and more.

For a German translation of the FAQ, see Bálint Krizsán's site.
---
The Isaac Asimov Memorial Panel Debate
Janet and Robyn Asimov, working with the American Museum of Natural History in New York City, established the Isaac Asimov Fund to support the annual Isaac Asimov Memorial Panel Debate as part of the Museum's Hayden Planetarium Programs. The fifteenth annual debate took place on the evening of April 28, 2015 in the museum's LeFrak Theater.

The topic of the 2015 debate was "Water, Water". The debate focused on water; it's origin, nature, and importance, and the role it will play in the future of humanity as well as other life in the universe. Tickets for the event sold out in less than one day, but a live stream was available at amnh.org/live, and a video of the debate can be viewed on YouTube.

The debate was once again moderated by Neil DeGrasse Tyson, the Frederick P. Rose Director of the Hayden Planetarium, and host of the 2014 television series Cosmos: A Space-Time Odyssey.

The featured panelists were:
Heidi Hammel, a planetary astronomer who is Executive Vice President of the Association of Universities for Research in Astronomy (AURA). Hammel's scientific study has focused primarily on the "icy planets", Uranus and Neptune.
Tess Russo, a hydrologist and Assistant Professor in the Department of Geosciences at Pennsylvania State University. Her research of hydrologic systems is primarily concerned with improving agricultural practices in order to preserve the quality of water and utilize it efficiently.
Ellen Stofan, a planetary scientist who is the Chief Scientist of NASA. In an April 2015 panel discussion of water sources in the universe, Stofan predicted that there will be strong indications of extraterrestrial life in the next decade, and definitive evidence for it within the next 20 or 30 years.
Kathryn Sullivan, an oceanographer and geologist, is the Under Secretary of Commerce for Oceans and Atmosphere and National Oceanographic and Atmospheric Administration (NOAA) Administrator. In her work, she makes decisions about water, ocean observations, space weather, satellites, and research on climate change.
Charles Wald, a retired U.S. Air Force general and Director and Senior Advisor to the aerospace and defense industry for Deloitte LLP. He is a specialist in the subjects of weapons procurement and deployment, counter terrorism, national, energy and international security policy.
Each of the previous debates were presented to a standing-room only audience.

Thanks to the many contributors, the Isaac Asimov Memorial Fund continues to grow. If you would like to participate in this extraordinary opportunity to perpetuate Isaac's memory and support the cause of science education, please read the details.

An article from Rotunda, the newsletter of the American Museum of Natural History in New York City, profiles the career of Dr. Janet Jeppson Asimov, her involvement with the museum, and the establishment of the Isaac Asimov Memorial Fund.
---
Asimov Recognized by Congress
Isaac Asimov was recognized by the 111th Congress on March 9, 2010 in House Resolution 1055, "supporting the designation of National Robotics Week as an annual event". The following passage appears in the text of the bill:
"Whereas the second week in April each year is designated as 'National Robotics Week', recognizing the accomplishments of Isaac Asimov, who immigrated to America, taught science, wrote science books for children and adults, first used the term robotics, developed the Three Laws of Robotics, and died in April, 1992: Now, therefore, be it resolved..."
The tribute to Asimov is due to the efforts of Paula Brooks, a robotics researcher and long-time fan of his who assisted the committee that wrote the resolution.
---
Black Widower's Collection: The Return of the Black Widowers
A new collection of Isaac Asimov's Black Widower mystery stories was published by Carroll & Graf in November 2003. The Return of the Black Widowers features six stories that never appeared in a Black Widowers's collection, plus ten of the best previously collected Black Widower stories. It also includes an introduction by Asimov's close friend, author Harlan Ellison; a pastiche about the Black Widowers; and an essay by Asimov about how he came to write the Black Widowers stories. Also appearing in the collection is a new Black Widowers story, "The Last Story", written by Charles Ardai, the editor of the collection, for the December 2002 issue of Ellery Queen's Mystery Magazine, to commemorate the tenth anniversary of Asimov's death and the thirtieth anniversary of the publication of the first Black Widowers story.

The Return of the Black Widowers can be purchased from amazon.com.
---
Autobiography: It's Been a Good Life
In late March, 2002, Prometheus Books published It's Been a Good Life, an autobiography edited by Janet Jeppson Asimov. The book was compiled from selections made from the three previous autobiographical volumes In Memory Yet Green (1979), In Joy Still Felt (1980), and I. Asimov: A Memoir (1994). The book also features "A Way of Thinking", Asimov's 400th essay for the Magazine of Fantasy and Science Fiction, which Janet put together from conversations they had and letters they had exchanged during many years of correspondence. In addition, there are excerpts from those letters sprinkled throughout the book. The result is a portrait of the life of Isaac Asimov, the writer, humanist, thinker, wit, and bon vivant, which lovingly illustrates why he was able to truthfully say "It's been a good life".

The book also includes an epilogue in which Janet Jeppson Asimov reveals for the first time that Isaac's 1992 death from heart and kidney failure was a consequence of AIDS contracted from a transfusion of tainted blood during his December 1983 triple-bypass operation. She explains how and when he learned he had the disease, and why his doctors convinced him to keep it a secret from the public. The epilogue includes a description of Asimov's final days, together with some poignant passages that describe his views of life and death.

[There were some erroneous published reports stating that it was Janet Asimov who convinced her husband to keep the fact that he had contracted AIDS a secret. This is absolutely untrue. In fact it was Asimov's doctors who urged that the matter be kept a secret. See Janet's April 4, 2002 letter to Locus magazine.]

The book can be purchased online from amazon.com or Barnes and Noble.
---
Lists of Asimov's Works
---
Sources for Obtaining Asimov's Books
There are many websites that offer books for sale, and of course the number grows each day. A number of those are good sources for books by Asimov, and a few are listed here. Please note that the listing of these sites do not constitute an endorsement of their services.
Amazon.com Books: With millions of titles available, there is a good chance that you can find most of Asimov's books that are currently in print at Amazon.

The Advanced Book Exchange represents large numbers of independent used book dealers, and is a good source for hard-to-find books.

The Antiquarian Booksellers' Association of America offers out-of-print, collectible, and hard to find books. They are an association of booksellers who collectively sell books on the Internet. . Their selection of books by Asimov often includes a number of titles you may not have seen elsewhere.

AddAll offers searching and price comparisons.

Powell's Book Store is a large store in Oregon (reputed to be the largest bookstore west of the Mississippi) that has a website.

The Science Fiction Book Club sells its own editions of some of Asimov's science fiction books at discount prices.

And last, but not least, don't forget your local library as a source for borrowing books for reading.
---
Publishers of Asimov's Books on the Web
---
Reviews
Jenkins' Spoiler-Laden Guide to Isaac Asimov is a collection of John Jenkins' reviews of every one of Isaac Asimov's books. Well, he hasn't actually reviewed all of Asimov's books yet, but he's working on it. John offers his views of what he likes and dislikes in Asimov's books from the point of view of a dedicated Asimov enthusiast, and provides a graphical rating system that neatly summarizes his evaluations for both the Asimov fan and the intended audience of each book. He has included reviews of Asimov's short fiction. John's opinions are highly personal, comprehensive, and clearly written, and definitely worth a look. He also has a blog of "random thoughts on one of the world's most prolific authors".

Search the science fiction review archives of the Science Fiction Resource Guide to view their collection of reviews of Asimov's books.
---
A Graph of Asimov's Book Publications
It took nineteen years for Asimov to publish his first 100 books, ten years to publish the next 100, and only five years to bring the total up to 300. Thanks to Tony Neilson, here is a graph of the number of books Asimov published each year throughout his career: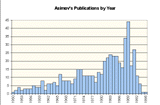 ---
Some Items of Interest
Isaac Asimov's Birthplace
Isaac Asimov was born in Petrovichi, Russia, in 1920. Petrovichi is very proud of their native son, and have honored the place of his birth with a memorial stone. A picture was supplied by Alexander Azimov, who is almost certainly a relative of Isaac's.
Essays by Johnny Pez
Johnny Pez dispenses his knowledge in a series of essays:

The publishing history of the Positronic Robot and Foundation stories:

The publishing history of the Positronic Robot and Empire novels, 1947-1958


The Rise and Fall of the Spacers


Articles from the Encyclopedia Galactica:
A Piece of History
By March 18, 1941, Isaac Asimov had written thirty-one stories, sold seventeen, and fourteen had been published. At that time, he considered himself nothing more than a third-rate writer. That evening, he sat down to write his thirty-second story, based on an idea suggested by Astounding editor John W. Campbell the day before. By April 8, he finished the story, titled "Nightfall", and on April 9 he took it to Campbell. Two days later, he received this letter from Campbell, and the history of science fiction was changed forever.
Cosmic Corkscrew
Science Fiction writer Michael A. Burstein pays homage to Isaac in Cosmic Corkscrew, his Hugo Award nominated story which appeared in the June 1998 issue of Analog, and honors the 60th anniversary of Asimov's submission of his first story to Astounding Science Fiction.
Asimov and Religion
Mike Brummond's scholarly essay Religion in Asimov's Writings considers the aspects of religion that appear in Asimov's fiction, and Asimov's views on religion, as expressed in his nonfiction.
Asimov's Science Fiction Magazine
Asimov's Science Fiction Magazine has a website containing feature articles, excerpts from upcoming issues, book reviews, online interviews, reprints of Isaac Asimov's editorials, and much more.
The Magazine of Fantasy & Science Fiction
Home to Isaac Asimov's monthly science column for over thirty-three years, The Magazine of Fantasy & Science Fiction, founded in 1949, is the award-winning SF magazine which is the original publisher of SF classics like Stephen King's Dark Tower, Daniel Keyes's "Flowers for Algernon" and Walter M. Miller's A Canticle for Leibowitz. The website has selections from recent and upcoming issues, current issue contents, writer's guidelines, and subscription information.
---
Other Asimov Resources
---
A Few Science Fiction Resources
---
Author:
Edward Seiler
ejseiler@earthlink.net